Are you looking for a new virtual platform to use for online training?
Are you trying to do more with the virtual platform you are currently using?
Are you trying to figure out which virtual platform is the best one for you to start using?
If you answered "yes,"  "maybe," or even "I don't know?" to any of these questions, you should take a look at the series of virtual platform Training Guides created by Endurance Learning and available to you for review and download (free!), on their web site: https://endurancelearning.com/training-guides/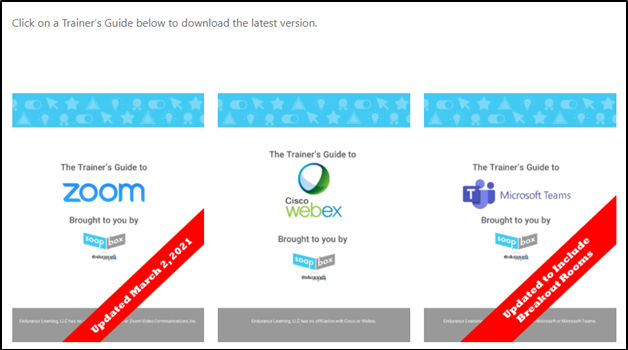 These regularly updated resources go beyond simply explaining HOW the technical features for each platform work. They also provide significant information and suggestions through the lens of a trainer to help you learn how to get the most out of each feature and platform.
This information appears in detailed sections for each feature divided into the following headings: Overview, Adult Learning, Limitations, Best Practices, and Back-Up Plan.
Clarifying screenshot images accompany the straightforward language of the text to provide a good balance of words and pictures that are easy to understand.
In addition to Zoom, Webex and Teams, the series also contains guides for: GoToMeeting, Adobe Connect, GoToTraining, and Blackboard Ultra.