Hey, Trainers!
Are you converting in-person training content to deliver in non face-to-face platforms?
Or are you developing new trainings to offer in virtual or distance learning settings?
Did you attend the Trainer Connections March 25th virtual Lunch and Learn on Using Technology to Support Non Face-to-Face Training, but wish you had better notes and would LOVE to be able to continue exploration of the topic with other trainers?
Perhaps you were unable to participate but want to learn more about this topic, discuss it with ECE trainer colleagues, and/or see what you missed…
If so, do we have some good news for YOU!
You now have access to a brand new online resource for trainers, the Trainer Connections Online Community.
Trainer Connections Online Community is designed to be a living hub of information and collegial networking to support trainers in their ongoing journey to provide high quality training to ECE professionals.
Here you will find content, discussion boards, and resources from Trainer Connections events held all across the state on various topics relevant to early childhood education and adult learning.
The Trainer Connections Online Community has gone live with its first active area to help us continue the important discussion we started on March 25th on Using Technology in Non Face-to-Face Training.
In this space you can:
Watch a video recording of the entire event.
Download written resources that were created specifically for this virtual Lunch and Learn, or that are related to the topic of non face-to-face training.
Participate in a discussion board with ECE trainers and training professionals by asking/answering questions, sharing resources, posting about the successes and challenges you have experienced, and reading/responding to others.
Don't waste another minute spinning your wheels all by yourself on non face-to-face training.
To take advantage of this new ECE Trainer Online Community platform:
Create a new account or log in to your existing account on https://www.hdilearning.org/
'Purchase' the free course – FET: Trainer Connections Online Community
Enter the course from your My Courses page on the HDI Learning site
Click on the lesson – Using Technology in Non Face-to-Face Training March 25, 2020
Explore each section and dive in to the ongoing dialog!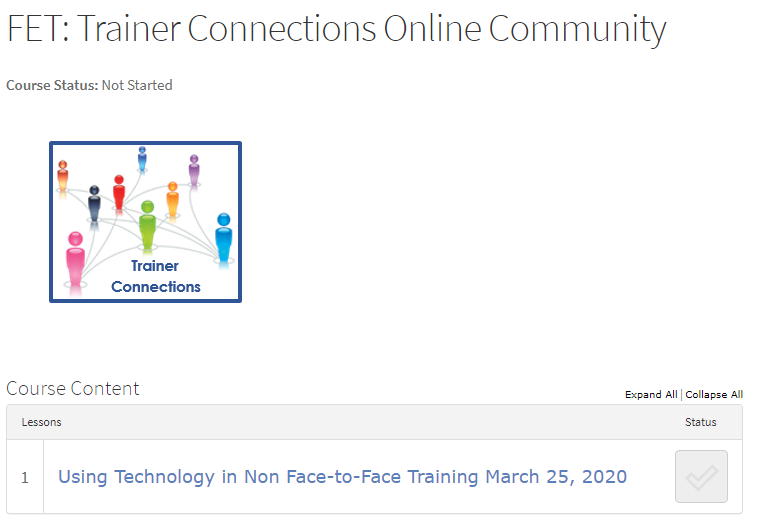 Please join us in our quest to grow and develop this space into something special that trainers visit frequently and contribute to often to promote a vibrant community of learners who support each other in a variety of ways.